Welcome to Golf in a Kingdom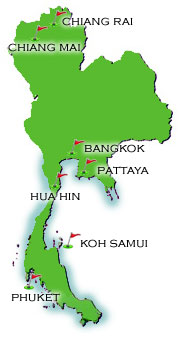 The term, 'tropical paradise' is thrown around quite loosely these days. It's taken on an almost mythical quality, as if these places no longer exist. Yet everything we associate with such a fantastical place – warm, blue-green waters, remote island getaways, lush luxuriant landscapes, friendly locals, affordable prices, endless white-sand beaches, carefree sensibility, breathtaking golf courses and exotic cuisine – are a reality when you Golf In A Kingdom.
Regal trappings permeate most everything in Thailand, especially golf holidays in the realm. After all, it's not every day you play Golf in a Kingdom.
Most Asian countries have but a handful of golf courses; Thailand boasts more than 260, the best of which are part of Golf In A Kingdom. All are available to overseas golf visitors. While the cost of golf – as well as lodging, food and entertainment – are extremely low by North American and European standards, the quality of the golf – and hotels, as well as the cuisine après-golf options – remain utterly first class.
The Thai Golf Experience
The courses that comprise Golf in a Kingdom: The Thai Golf Experience are the finest Thailand and South East Asia have to offer. In the past five years, the Asian and European Tours have made tournament stops at no less than 20 separate Kingdom tracks. From the appropriate tees, they will challenge the finest players, while offering mid and high handicappers a relaxing, highly enjoyable golf experience.
The common denominator of Golf In A Kingdom courses is their conditioning. These are among the best-maintained courses in all of golf, designed over spectacular verdant terrain from warm southern beachfronts to cool northern highlands. The quality and sheer beauty of The Thai Golf Experience courses are awesome, while the charm and savvy of its world-famous all-female caddie corps – a staple at every course, country-wide – often leaves the strongest impression of all.
Total Golf Experience
The sheer size of Thai clubhouses may at first take some foreign visitors aback, but the quality and variety of amenities quickly puts one at ease – beyond ease, actually, to a state of near bliss. The cream of Thai golf courses, members of Golf In A Kingdom, have for decades been welcoming resort golfers from all over Asia and Europe. Thai hospitality and long-standing experience accommodating golfers from so many different cultures has raised the clubhouse culture to high art. Multiple menus, the poshest of locker rooms, resplendent bath and sauna facilities, comfortable, leather-bound grille rooms worthy of a Kingdom are abundant. On a continent famous for opulent clubhouses, Thai entries are routinely voted the best in Asia.
Away from the course and clubhouse, golfers on Thai holiday can expect nightlife options as exotic, sensuous and spirited as one chooses. It's all there in Thailand, right down to the some of the most colorful street life anywhere. The juxtapositions of Thai life are what lure and ultimately delight first-time visitors: centuries-old floating markets beside a world-class highway and public transportation system; a rich cultural history set beside utterly modern, world class resorts. It's the accumulation of these pleasant surprises that keep golfers in a kingdom coming back.
Golf in a Kingdom Member Golf Courses
Golf in a Kingdom Member Hotels & Resorts