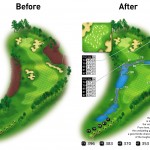 Black Mountain's par 4 tenth hole has been upgraded. A dog leg left of just over 400 yards from the championship tees it was felt that the hole could be made more challenging, more aesthetically attractive and more in keeping with improvements made to the rest of the course particularly in the area of water features.
Whilst previously a large bunker guarded the corner of the dogleg, low handicap players could straightforwardly play over this hazard to quite a large landing area, a carry of 270 yards but all downhill. In order to make the line off the tee more defined a water feature has been created that starts alongside the tee on the left and meanders downhill to the corner then crosses the fairway where previously players aimed for.
In addition, where before the fairway straight ahead off the tee ended in a raised plantation area of "elephant" grass considerable earth has been moved and the fairway ends level, with light, then heavier rough and water beyond that will catch an ill-judged long drive.
All in all Black Mountain has achieved its aim. Few will cut the corner to the extent they did before, most will be forced to take on the fairway straight off the tee although the landing area is quite generous. This will leave a longer second shot to a tiered green which is well protected by bunkers.
This work has been carried out because of Black Mountain's ethos that even the best can be made better and their quest for perfection goes on.