The Kingdom of Thailand is no postage stamp. Similar in landmass to California, it stretches even greater distance north to south, meaning the variation in climate and terrain is profound. This is good news for visiting golfers. Kingdom courses reflect this geographic diversity and golf travelers can hew to the country's endless coastline, venture into tropical jungles, experience cities or find a remote stretch of sand and get away from it all.
Bangkok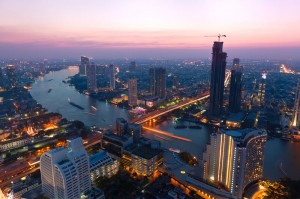 Bangkok is a city of immeasurable delights: beautiful temples and palaces, classical Thai dancing, kick boxing, boat rides, shopping bargains, restaurants and international world-class hotels offer an incomparable range of food and facilities. Of course, a wide range of bars and discotheques of every description enliven the legendary night scene.
Whether you are traveling to Bangkok for leisure or business, a game of golf could be just what you need. You'll play some of the world's most distinguished courses. Then relax in a luxurious and comfortable hotel, enjoy fine dining and an abundance of leisure activities. Here are Bangkok's premium golf courses and resorts recommended by Golf in A Kingdom:

Hua Hin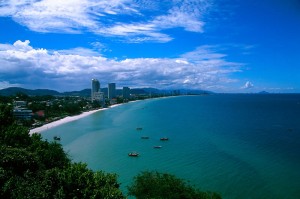 For more than 75 years, Hua Hin has been a popular seaside holiday area for affluent Thais. Although it still retains the intimacy of a village, it has successfully incorporated modern luxuries without the commercialism of other resorts, and the area has kept much of its old world charm and colorful ways. Today Cha Am, Hua Hin's northern neighbor, is still a thriving fishing village with its own local fleet.
The oldest and most traditional Thailand beach resort combines the attractions of a modern holiday destination with the charm and fascination of a still active fishing port. And while most other Thai holiday destinations cater mainly to foreign tourists, Hua Hin is a holiday resort for foreigners and Thais.

Pattaya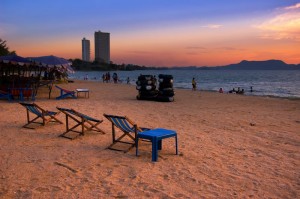 Pattaya is located on the Gulf of Thailand, 140km south-east of Bangkok. It is one of the largest tourism centers in Thailand and in addition to an abundance of golf courses has a wide variety of hotels, beaches, shopping, and world-renowned nightlife. It takes only 1.5 hours to reach Pattaya by car from Bangkok or one hour from Suvarnabhumi International Airport.
Pattaya is a golf destination where you can fill your day, from dusk to dawn. At day there is endless golf. At night, there are restaurants, bars, shopping, cabaret shows, nightclubs, bowling halls, billiards and snooker clubs, discos, sauna and massage parlors. To put it simply, Pattaya is a golfer's paradise! Here are Pattaya's top-rated golf courses recommended by Golf in A Kingdom:

Phuket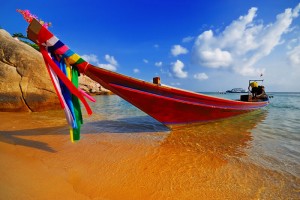 Phuket is known internationally as one of the most exotic destinations in South East Asia. With its endless white beaches, cooling blue lagoons and tropical mountainous interior, it provides a stunning and glorious image of paradise on earth, providing an ideal backdrop for your golf holiday.
Set in the crystal blue Andaman Sea, Phuket is surrounded by a number of glorious tropical islands, the largest of which are served by ferry. If you want to lose yourself on a deserted tropical beach, this is the place to combine total relaxation with golf.

Chiang Mai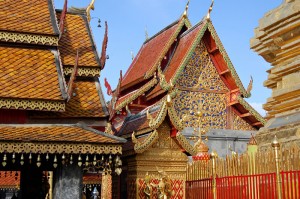 For an unforgettable golf holiday, Chiang Mai offers golfers a city rich in culture, crafts, temples and natural beauty along with eight championship golf courses. Chiang Mai is filled with various entertainment centers, shopping opportunities, while gourmets can feast on tasty local Lanna cuisine. Chiang Mai nightlife, while more relaxed than Bangkok or Pattaya, is another attraction that draws many international golfers.
For a golf holiday with luxury accommodation, Chiang Mai offers an unbelievable choice. Those who enjoy other treasures won't be disappointed. Chiang Mai offers its visitors a city rich in culture, spas, massage, crafts, temples and natural beauty.

Golf Courses in Chiang Mai
Accommodation in Chiang Mai