My name is David Blakeborough. I am from Manchester in the UK but currently live in Doha, Qatar.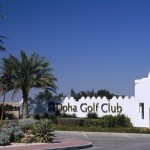 I have played golf for 25 years in total, presently off a handicap of 15. I am about to become a member of the Doha Golf Club, home to the PGA European Tour's Qatar Masters. Doha GC is a parkland-style layout bordered by desert wastelands (naturally!). My previous two clubs were a links course in the UK and the prestigious Jumeriah Golf Club in Dubai so I am no stranger to quality golf.
This was my second visit to Pattaya on a trip organized by Golfasian but the first Amateur Week I had attended. Amateur Week is one of 10 annual tournaments run along professional lines by Golfasian in Thailand, Cambodia and Vietnam. While the golf is taken quite seriously rest assured the emphasis is placed on camaraderie and having a good time. I came alone on my holiday but the tournament gave me the opportunity to meet many diverse and interesting people. I was particularly thankful that a group from Australia "took me under their wing" so to speak; this group consisted of some 10-12 golfers of varying ages. I was also lucky enough to meet a couple from the North East coast of the UK so could discuss important matters such as football and 2 wonderful ladies from the Czech Republic. These people all made me feel as if I had known them for years.
The hotel we stayed in (Centara) was ideally located in central Pattaya which made getting around very easy. My itinerary was perfect as I arrived two days earlier than most giving me time to get my bearings prior to the golf starting.
One of the best things about the experience with Golfasian is that from when you arrive 'til when you get home everything is taken care of. The staff are super friendly and help to iron out any small problems that might crop up. The golf itself is run like a well-oiled machine from when the draw is published the night before (in this instance) until you arrive on the tee in your buggy complete with the inevitably charming caddie. The weather was exceptional for golf, the caddies knowledgeable about the course plus speed and lines of the greens and the condition of the courses were outstanding. The cost of all this is a pittance against the staggering cost of golf you can be charged in other parts of the world. One of the most enjoyable things about this particular golf experience is the number of different prizes on offer every day (best scratch/net/front 9/back 9/near pins etc.) which means everyone has a chance of winning something. Of course we are all aiming for Tournament scratch and net champion…alas not this time!
My favorite course was Siam Country Club's Old Course which only a few weeks before had hosted the Honda LPGA Thailand 2015 so you can imagine how immaculate it was. My favourite hole was the par 4, 5th on Siam Plantation's Sugar Cane nine with its twin fairways and seemingly more bunkers than you could count. My best score came on the Plantation Course so I'll nominate that as my favourite day.
The "après golf" was huge fun as you can imagine with a large group of like-minded people.  When we got back to the hotel there was a party atmosphere with some elated after a great day's scoring and others debating the strengths and weaknesses of their swing over an ice cold glass of beer. During the week there was of course time to visit the city's various markets and abundant restaurants.
All in all I had a great time and would recommend golfing in Thailand to anyone. If you are travelling alone an Amateur Week may be the perfect holiday solution. I am interested in further exploring the golf courses of Thailand and other South East Asia countries, particularly Vietnam about which I've heard great things.