My name is Ng Heng Chong. I live in Singapore. I have golfed for about 10 years and am currently playing off a handicap of 22.
Our group, who undertook its second trip to Thailand with Golfasian, are members of Sembawang Country Club, considered an oasis in the heart of the urban jungle. Set in undulating terrain with narrow fairways, blind holes and carefully positioned bunkers, the course is definitely not for the faint-hearted.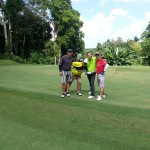 Here's the four of us, at Laem Chabang Golf Club. We are super relaxed and thoroughly enjoying the start to our holiday. It was a 5-day trip to Pattaya and Bangkok with rounds of golf at Laem Chabang, Siam Country Club's Plantation course, Suwan and Thai Country Club.
We love coming to Thailand, and in particular enjoy the great food from gourmet restaurants to street fare. Bangkok is a city that never sleeps so after golf it was easy to get a great meal, do a bit of shopping and just drink in the atmosphere. The people are wonderful and service levels fantastic, noticeably so at the golf courses. It was amazing to have the luxury of a caddy who not only attended to chores like raking bunkers and repairing pitch marks, but also gave us accurate ranges to the pin, read the greens superbly and even recommended clubs to play; I could get used to this!
The group are pretty relaxed about our golf. Notwithstanding, we all appreciated the immaculate greens at each venue and especially superb course conditions at Siam and Thai Country Club; they are world class. There were so many spectacular holes and often we would pause and remark to each other about our beautiful surroundings, taking a moment to soak it all in and enjoy the privileged experience.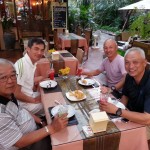 Like the first, our second trip with Golfasian went flawlessly. We'd like to take this opportunity to thank our rep Boyd Barker who accommodated all our requests in a professional and friendly manner. The operational staff were equally courteous and helpful. We have had 2 very good years of golf in Thailand thanks to Golfasian. Keep it up