My name is Shabaz Shah. I am of Pakistani heritage and have lived in Lahore since 1997, although I was born in the UK.
I have been playing golf since 2004 and am now holding a handicap of 14. I am a member of the Royal Palm Golf & Country Club, widely considered to be one of the best in Pakistan following a comprehensive renovation of the course and facilities in 2003. It is a tight, challenging layout that features tree lined fairways, significant water hazards and tricky greens. A championship course, Royal Palm is host to many Pakistan Golf Association Tournaments.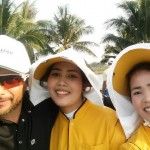 This recent trip to Thailand was my seventh, but for golf it was my fourth in a row all with Golfasian.  My friends and I (a group of 4) come back to Thailand because we feel strongly that Thailand delivers a superb overall experience. In particular, we enjoy our golf with the support of a caddy although we have that back home, but we also think the courses are of a high standard, varied in design with very good conditioning and of course there is the sound of the tropics in the background if you pause and listen.
In addition we feel so welcomed by the Thais who want us to have the best possible time while in their country, plus the weather is predictable.
Finally, if you get the right tour operator that runs everything efficiently and takes any issues in its stride, notwithstanding you have taken responsibility for organizing the trip you can still enjoy it  without a care in the world.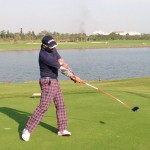 My favourite course is Alpine Bangkok which has the "wow factor". Alpine is the complete package – fantastic aesthetics, a wide variety of shots required but totally playable, some really long and wide holes allowing you to go-for-it. Set in serene surroundings with an acceptable travel time from Bangkok and an excellent club house it's a must play. I also love Suwan which used to host the Thailand Open, but it frustrates me because for some reason I don't seem to be able to score well there.