My name is Bill Williams. I live in Yamba, a small seaside town on the far north coast of New South Wales in Australia. The town is famous for its prawns which are harvested by a fleet of some 16 fishing boats. I have golfed for about 50 years and peaked as a 7 handicap; I'm now a respectable 16.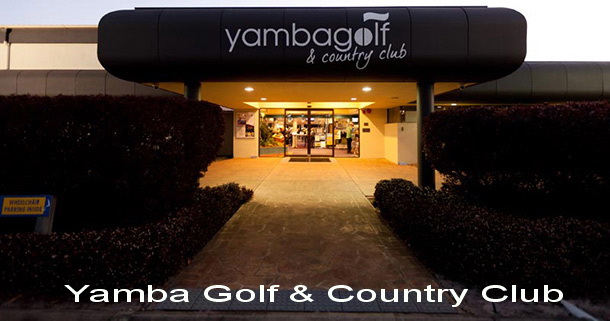 I am a member of Yamba Golf and Country Club. The course was established 55 years ago close to Pippi Beach, a local beauty spot. It is a parkland course with Bermuda greens that are rated the best in the district. The course is both challenging and a pleasure to play. It is also home to around 100 Kangaroos which pay little attention to golfers on the course. The trip I undertook was my third to Thailand but my first involving golf. I organize golfing trips for small mixed groups from our club playing prestige resort courses in the Hunter Valley, a major wine growing area, or on the beautiful east coast of Australia as far south as Nelson Bay.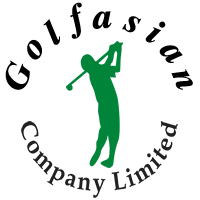 Why Thailand you may ask, when we have access to some of the best golf Australia has to offer? A group of members returned from a trip to Hua Hin and were full of praise, so rather than go to the Sunshine Coast I decided to sample the Thai golf experience. Whilst I checked a number of tour providers, I was immediately impressed with the efficiency of Golfasian. Their representative Ian Morgan quickly put together a program, having listened to my requirements, and kept me informed of all details right up to the day we left.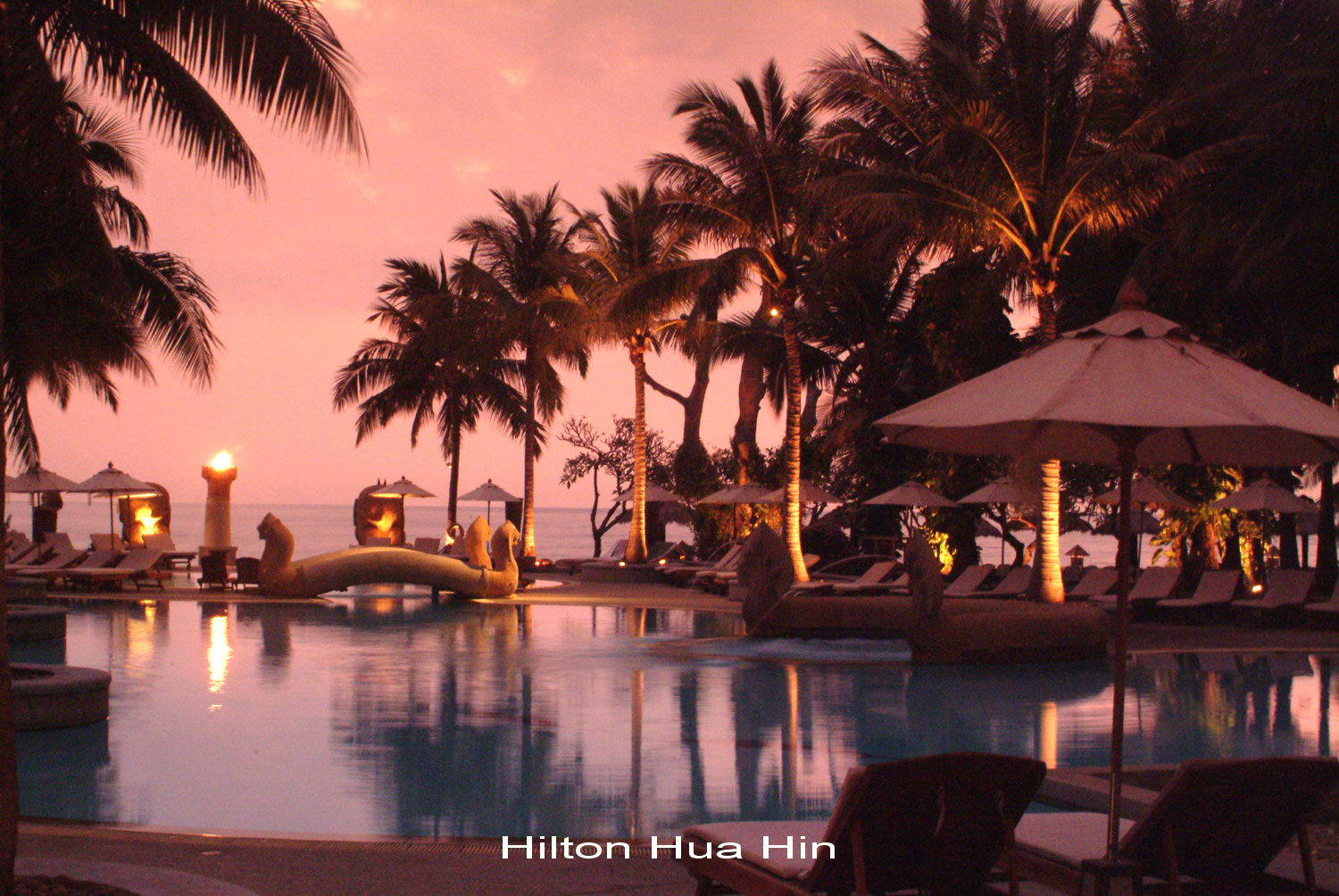 My wife and I, plus another couple travelled from Brisbane to Bangkok with Thai Airways, the only airline that flies direct. We landed at 8:15 in the evening, were met by Golfasian and approximately 3 hours later checked into the Hua Hin Hilton. The Hilton is in a great location, the rooms and service first class. The next night we enjoyed an excellent meal in their roof top restaurant.
We also ate at a number of restaurants in the area and enjoyed them all. My friend Paul had a suit made, myself 4 pairs of shorts and we all purchased numerous items from street stalls and local shop owners. We found the people of Hua Hin extremely friendly and happy to chat with us. The phrase Land of Smiles isn't a cliché.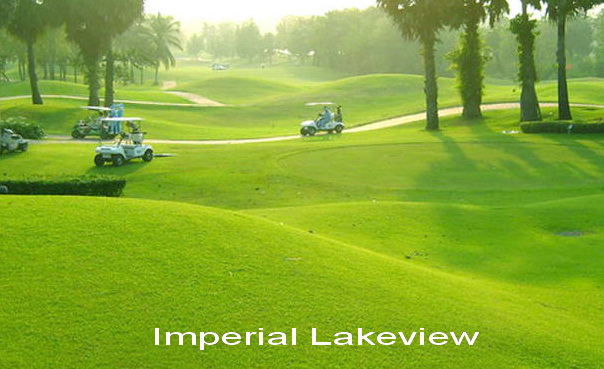 I have nothing but praise for the efficiency of the Golfasian staff we came into contact with on our trip. The drivers were always prompt and happy to pick us up after golf at whatever time we wanted. The choice of courses was well planned. We started at Imperial Lake View, and had our first experience playing with caddies. What an absolute pleasure. Within a few holes they knew which club we should hit and their ability to read the greens was incredible. We were very impressed.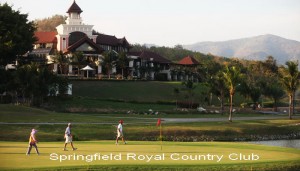 Royal Springfield Country Club, a Jack Nicklaus design, was thoroughly enjoyable with friendly and attentive caddies. We played The Lake and Valley 9s with the recently built Valley the more challenging. Thanks to some good advice from my caddy I was only 2 over after 8 holes but failed to keep it together and finished 16 over.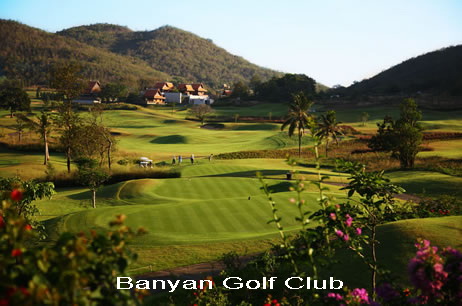 Banyan was a spectacular, undulating course with greens to match; breathtaking.
We considered Black Mountain the best so far, befitting its reputation. Every hole was different and challenging with significant elevation changes and multi-tiered greens in immaculate condition. Lunch at the restaurant overlooking the 18th was excellent.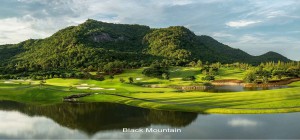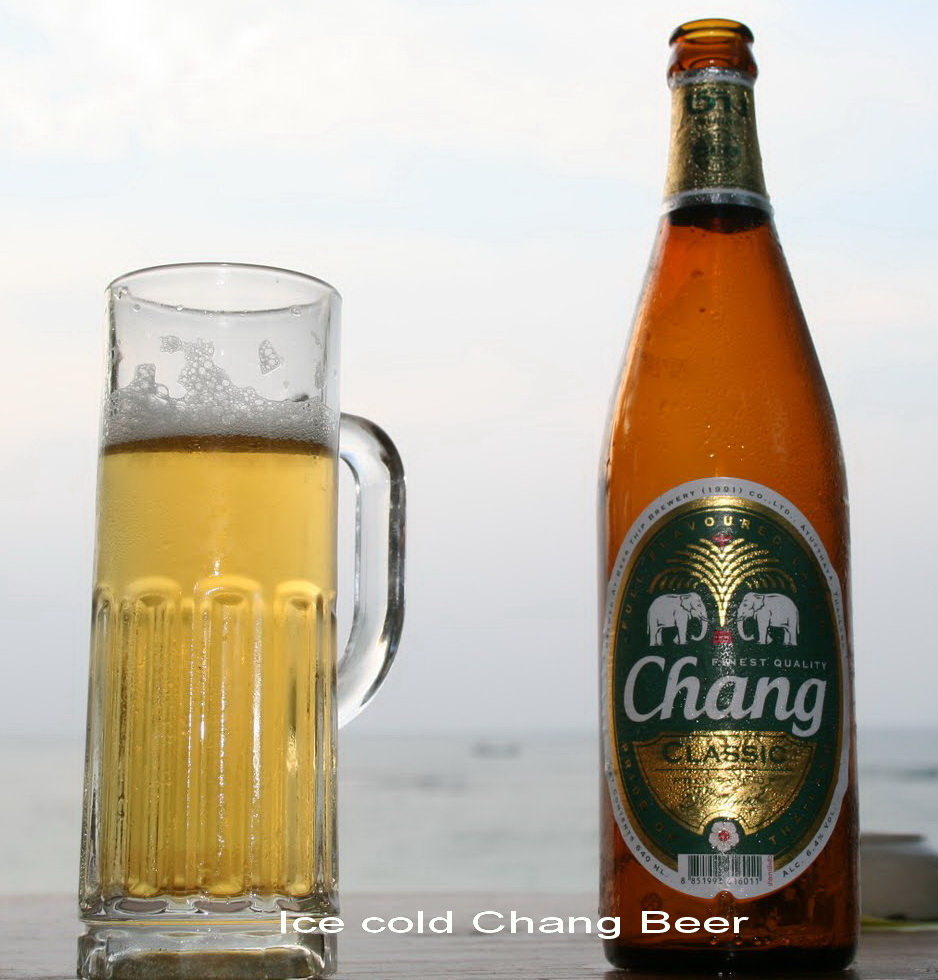 We enjoyed all the courses. On the weather front we had light rain for one hole at Banyan but for the rest of our stay the weather was warm to hot and sunny. After golf and on our free days my wife Irene and I would go down to the pool or walk down to the beach for some excellent chicken satay and a soothing ice cold Chang beer. Later we'd wander into town. Sticky rice with mango became a regular snack and banana pancakes were a must at the night markets. All the restaurants we tried were good, particularly the seafood just unloaded from the fishing boats at the dock a few hundred yards away. Their lobsters were great and the sweet chilli prawns were, as my wife would say, "to die for".
In summary, we all loved the holiday. It was well organized, the hotel location ideal, the courses great and staff exceptionally friendly and helpful. The weather great …what more could anyone want?