If you lived in the United Kingdom between the years of 1982 and 2007, you will probably know the phrase "Reassuringly Expensive" which was an ad slogan associated with a Belgian Beer, one of the best in the world and identified as being of the highest quality; in the same way the phrase applies entirely to Golf in a Kingdom member Thai Country Club. Should you crave exclusivity, if you hanker for something genuinely five star then Thai Country Club is a golf experience you will savor.
Thai Country Club is one of only a handful of true Member's Golf Clubs in the Bangkok area: the first, Navatanee; the renowned Alpine, home of a Tiger Woods Johnny Walker triumph; and Amata Springs, host to several recent international championships and a win by Sergio Garcia at the Thailand Golf Championship in December 2013.
Thai Country Club has similar tournament credentials and counts both Tiger and Gary Player as honorary members, but its status as a Member's Club runs a little deeper than most.  Managed and jointly owned by The Peninsula Group whose hotels set the standard for service excellence, the Club's sense of occasion is evident from the minute you pull up at the bag drop. Emphasis is placed on making you feel like you belong, staff are courteous and efficient, yet more than that you are made very welcome at "your" club (even though it might just be for the day).
The facilities are beautifully appointed with just a touch of tradition. Notwithstanding, in order to maintain their status as a house of excellence even now elements are being upgraded including the men's changing rooms which were already sumptuous. If you are a member of a country club back home, you will notice familiar little touches that aren't apparent elsewhere in Thailand such as plaques notifying the names of the Club Captain and Governors, Member's competitions boards and trophy cabinets containing pictures of recent winners. The changing rooms are luxurious and will prove to be more so post refurbishment, plus they are run by diligent and respectful staff who will provide a cold towel and iced water as you finish your round, and certainly offer to clean your golf shoes for a small charge. If you grab the key to locker number 2 you'll change right next to the one allocated to Tiger Woods himself; something you won't experience every day.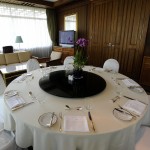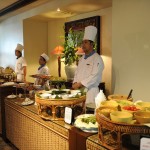 The Club's restaurant and main bar, The Gallery, is the perfect place to have a drink and something to eat while re-living the best shots of the round with your companions. Overlooking the 18th The Gallery eschews modernism but rather has the feel of an ante bellum mansion from the Southern United States; under-stated and comfortable yet quietly opulent.  The comprehensive menu offers everything from snacks to fine dining prepared by an in-house Head Chef and of course the bar serves cocktails, quality wines and liqueurs from an extensive list; all you'd expect from a Peninsula property.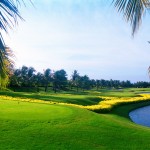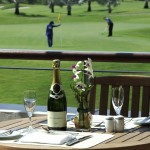 This website already describes the golf course itself which as you'd imagine is impeccable in quality, design and conditioning. But while other Golf in a Kingdom members have superb facilities, whether ultra-modern international, traditional Thai or a mixture of both, Thai Country Club, through the patronage of The Peninsula Group might just provide something reassuringly familiar, yet uniquely Thai and certainly a golf experience to savor.